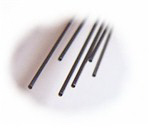 Desc.
Item#
Cart
Price
2-pack
N2032-2
$3.40
4-pack
N2032-4
$6.35
We custom designed this tubing and the .042" tubing below to provide a way for hobbyists to greatly expand the kinds of projects that can be built using our .018" and .050" tubing and our.012" stainless wire. Each size will fit inside the next to allow the building of signals, light poles, flagpoles, and any number of construction applications. Hydraulic rams and cylinders can be easily constructed for equipment using segments of our tubing and wire. In many white-metal kits, replacing some parts with segments of our tubing which are totally smooth and straight can greatly improve the overall appearance of the kit.
This .032" diameter tubing is designed with a slightly thicker .006" wall (1" in N-Scale) when compared to our other tubing. When used with our .018" tubing it provides a "visually noticeable" transition to the larger diameter pipe used in so many street lights and other lighting applications. Cut in small segments, it can be used as couplings to join pieces of the .018" tube or slid over the tubing to give the appearance of joined segments.
This tubing has virtually endless uses in the modeling environment. Need electrical conduit in N Scale that you can actually run wiring inside? Four of our #38 magnet wires will easily fit inside this tubing. See photos above for more info. How about pipe loads in Z, N or HO? Drain pipes for gutters or air conditioners? Because it has an extremely thin wall (.002"), it looks really prototypical in very close-up photographs. It also can used structurally due to its relative light weight and very high strength. This tubing is fabricated out of type 304 stainless steel and laser-welded to precision tolerances by the most advanced tubing manufacturer in America. A further proprietary process draws the tube through dies with special floating plugs which increase density and makes it ramrod straight with extremely smooth inside and outside surfaces. There is no visible seam. We provide this tubing in 9" straight lengths with clean cut ends.
This tubing can easily be formed into curves and shapes. See details, including bending precautions, by clicking on the Forming/annealing link.
Desc.
Item#
Cart
Price
2-pack
N2018-2
$3.95
4-pack
N2018-4
$7.25
Desc.
Item#
Cart
Price
2-pack
N2050-2
$5.55
4-pack
N2050-4
$9.95
Manufactured to the same precise tolerances, this .050" diameter tubing has only a .004" wall giving it an excellent thin-wall appearance. In N Scale, the outside diameter measures 8 inches, making it perfect for traffic signals or posts for lighted signs. Combine it with several curved sections of the smaller tube to make fancy streetlights or security lights around factories. Cut it into scale 10 or 20-foot lengths and paint it rust brown or black, and it makes terrific looking pipe loads. Use it in construction projects for exposed water or sewer pipe. The possibilities are endless. Just like our other tubing, it can be formed, and flared. If very tight bends are required, the tubing should be annealed first. See the Forming and annealing link for details.
This tubing is designed to bridge the gap between our .032" and .050" tubing. For its diameter, having a wall thickness of only .0035" lets it easily be used for pipe loads or other situations where visual "thinness" is important. In HO-Scale, it is ideal for 4" pipe. As with our other tubing, it can be easily formed.
Desc.
Item#
Cart
Price
2-pack
N2042-2
$5.35
4-pack
N2042-4
$9.75
Desc.
Item#
Cart
Price
2-pack
N2065-2
$5.65
4-pack
N2065-4
$10.50
Our .065" diameter tubing has adaptations in nearly every model railroading scale. In Z-Scale it accurately represents 14" pipe. In N-Scale it looks like 10" drain and supply pipe. In HO, it is very close to 6" outside diameter and can be used in many applications. O-Scale modelers will find it is perfect for 3" pipe (even the wall thickness is less than 1/4" in O-Scale).
An additional note: Miniatronics 1.2mm incandescent bulbs just fit inside this tubing, so if you need a collar for the base of a bulb, a thin segment of this tube looks just like a mounting base or housing.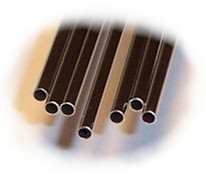 This is our largest diameter tubing. It also has the thinnest wall in proportion to its diameter (1:19) giving it very realistic appearance when used for pipe loads, drainage, or other situations where it will be photographed or viewed on-end. At an N-Scale outside diameter of 15", it is very close to piping typically used in many water, drainage, or sewer applications. One 4-pack is enough to make a great looking N-Scale flat car load of 20, 20-foot sections (2 groups of 5 wide by 2 high). In HO-Scale, it correctly represents 8" pipe so common in many situations. Also in HO, small segments of this tube can be cut at an angle to represent the sun shades used on many traffic, emergency and railroad signals. In this case, carefully deburr or "sharpen" the end edge to give the appearance of the thin sheet metal used in these applications.
Desc.
Item#
Cart
Price
2-pack
N2095-2
$6.95
4-pack
N2095-4
$12.95
This tubing is sized to provide a very smooth fit inside our largest (.095") tubing below while having an inside diameter that will allow our .065" tubing (above) to easily fit inside. This provides a good bridge between the two sizes for construction projects in various scales.
Z-scale enthusiasts note: When cut to proper lengths, this tube is perfect for 18" diameter pipe for flat car loads and other construction projects.
| | | | |
| --- | --- | --- | --- |
| Desc. | Item# | Cart | Price |
| 2-pack | N2083-2 | | $6.25 |
| 4-pack | N2083-4 | | $11.70 |
For its small overall diameter, this tubing has a very high wall-to-diameter ratio (12.8:1). As a result, in scale modeling environments it creates a very appealing and realistic appearance. Designed to slip over our .025" tubing above, this tubing provides a direct transition to our next larger sized .042" tube. Structurally, its extremely thin wall provides light weight while affording high extension and compression strength. When used with our .025" tubing above, small segments of this tube make excellent joints and have the appearance of prototypical pipe fittings.
Desc.
Item#
Cart
Price
2-pack
N2032U-2
$3.85
4-pack
N2032U-4
$6.95
.032" Thin-wall Stainless Tubing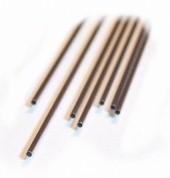 Like our .018" tubing above, this tubing has a very thin wall at.0030". It's designed to just slip over our .018" tubing providing many useful applications where a telescoping effect is needed. It very accurately represents 4" conduit or pipe in N-scale and in close-up photography looks like the real thing! Small segment can protrude from structures to represent drains, or cut into lengths and lightly airbrushed, it makes beautiful pipe loads and stacks. Structurally very strong and light-weight. Like all of our tubing, it is manufactured using the most state-of-the-art processes.
Use with our .018", .032" ultra-thin wall, .042" and .050" tubing to make light poles, lit sign poles, traffic signals, etc. When painted, the thin walled transitions appear very much like the prototypes. Using tubing in this way will allow up to 4 of our #38 wires to run up through for many lighting and signage options.
Desc.
Item#
Cart
Price
2-pack
N2025-2
$3.75
4-pack
N2025-4
$6.85